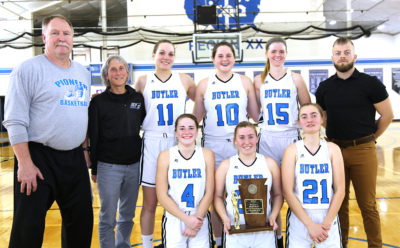 The Butler County Community College women's basketball team survived its slow start and Westmoreland County Community College's fast finish Saturday to claim the 2020 Western Pennsylvania Collegiate Conference championship and its fourth in five years.
Guards Casey Kretzer and Michaella Roth scored 17 points each, and BC3 capitalized on 20 Wolfpack turnovers in defending its 2019 title and posting a 43-36 victory at BC3's Field House.
The BC3 squad, led by head coach Dick Hartung will chase the program's fourth National Junior College Athletic Association Division III Region XX crown since 2007 and first since 2016 next weekend.
Kretzer, a Knoch High School graduate and BC3's leading scorer with a 16.2 points per game average, was named Saturday to the WPCC All-Conference Team.
Skye Wessel, a freshman and Seneca Valley graduate, had eight rebounds for the Pioneers and Alexis Barnhart, a freshman from Butler, had seven. Mackenzie Markle led the Wolfpack with 14 points and Julea Claycomb, with 11 rebounds.
BC3 will be joined by Anne Arundel Community College, Arnold, Md.; Prince George's County Community College, Largo, Md.; and host Westmoreland County Community College in the NJCAA Region XX tournament. BC3 won Region XX crowns in 2007, 2011 and 2016.
BC3's men's basketball team topped Westmoreland County Community College 97-85 in a WPCC quarterfinal on Friday night, then fell 123-90 in the semifinals to the Community College of Allegheny County on Saturday.
Julian Sanks, a freshman from Knoch, led the Pioneers in the semifinals with 31 points, and Andrew Yonker, a sophomore from Butler, had 28.
Dom Schmidt, a sophomore from Butler, added 16 points and led the Pioneers with 12 rebounds in the semifinals.
The post BC3 women's basketball team claim WPCC title appeared first on ButlerRadio.com – Butler, PA.