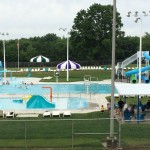 The director of Butler County's Parks and Recreation Department would like a digital overhaul of his operations.
Director Lance Welliver has asked the Butler County Commissioners to consider purchasing new computer software that would allow the department to move many of its operations online.
Currently, county residents can't register for programs and other events online, meaning residents have to physically come to the Butler Township department office or call to reserve a spot.
"This will increase our visibility and reach," Welliver said.
The cost of the new software would be about $5,000 per year.
"This is long overdue," Butler County  Commissioner Board Chairman Leslie Osche said.
The new program should be in place to start next year.
The post Butler Co. Recreation Department To Go Digital appeared first on ButlerRadio.com – Butler, PA.