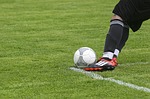 High School Sports:
Boys Soccer:
–Butler-6 Shaler-1. Landon Mohney had five of the six goals for the Golden Tornado. Mohney is now one goal away from tying the all-time career goals mark at Butler.
–Seneca Valley-5 North Allegheny-0. Nathan Prex scored three goals for the Raiders.
–Hampton-7 Knoch-1.
–Indiana-3 Freeport-0.
–Kiski Area-3 Mars-2.
–North Catholic-8 Mohawk-1. Dylan Greggs had three goals for the Trojans.
–Slippery Rock-1 Hickory-0.
–Grove City-7 Conneaut-0.
Girls Soccer:
–Butler-6 Shaler-1.
–Karns City-3 Wilmington-0. Emma Dailey scored twice for the Gremlins.
Girls Volleyball:
–Seneca Valley-3 McDowell-1.
–Plum-3 Knoch-2.
–Cranberry-3 Karns City-1.
–North Clarion-3 AC Valley-2.
The BC3 Women's Volleyball team defeated Penn State-DuBois 3-1 last night to improve to 12-0 this season. The Lady Pioneers will host the WPCC Conference Championship this Saturday at 1pm.
The post Butler's Mohney within one of school mark/BC3 Volleyball remain perfect appeared first on ButlerRadio.com – Butler, PA.