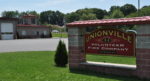 No one was injured as a result of a fire in Center Township Monday afternoon that destroyed a barn.
Firefighters were alerted to a fully involved barn fire at 455 West Sunbury Road (Rt 308 just north of Holyoke Rd) about 12:15 p.m.
Assistant Chief Mike Pflugh of the Unionville Volunteer Fire Company was among those to arrive first on the scene:
"Mainly what was in the structure was a tractor, quad runner, generator, miscellaneous farm equipment, and it housed some goats and chickens, and such that they were all able to escape, except for like a couple ducks but most of the livestock was able to escape."
Unionville was joined by Oneida Valley, West Sunbury, and Prospect Fire Departments as well as Butler Ambulance.
According to Pflugh, the structure was insured and the total amount of the loss was around $150,000.
"Cause is undetermined. Talked to the State Police Fire Marshal. They said just to leave it undetermined until the insurance companies look at it and then they decide what they want to determine the cause as."
That scene was cleared by 2 p.m.
The post Center Township Barn Destroyed By Fire Monday appeared first on ButlerRadio.com – Butler, PA.