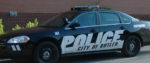 Butler City Police say they are investigating a robbery involving shots fired at a downtown business over the weekend.
It happened Saturday night at the Butler Beer and Tobacco store on North Main Street.
One person allegedly held the cashier at gun point demanding money. The robber then fired a shot into the wall before getting the cash.
Butler City Police Chief Bob O'Neill says his department is still working on the investigation and they have no additional information as of this morning.
The post City Police Investigating Robbery At Downtown Business appeared first on ButlerRadio.com – Butler, PA.