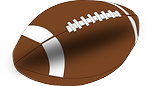 College Football Saturday:
–Penn State will host Akron for a noon kick-off. Hear the game on WBUT 1050am beginning at 10:30am.
–Pitt is home to Youngstown State. Kick-off is 1pm at Heinz Field.
–Slippery Rock University is on the road to Kentucky State. Kick-off is 1:30pm. Hear the game on The Rock Station 97.7fm (and at 977rocks.com, or video stream at rockathletics.com) beginning with the Coach Shawn Lutz Show at 1pm.
–Duquesne lost to South Dakota State 51-13.
–Number two-ranked Ohio State defeated Indiana 49-12.
–Number ten-ranked Oklahoma State downed Tulsa 59-24.
–IUP edged Ashland 26-23.
–Calfornia got by Ohio Dominican 36-34.
–Clarion lost to Tennesse-Martin 36-0.
–West Chester, who is the opponent for Slippery Rock next week, crushed Bentley 51-9.
–East Stroudsburg defeated Fairmont State 20-16.