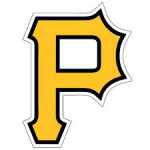 The Pittsburgh Pirates broke a four-game losing streak with a 7-1 victory Sunday over the San Diego Padres. Andrew McCutchen hit three home runs in the game and walked twice. It was the third time in his career that McCutchen has had three home runs in a game. All three home runs were solo shots. McCutchen scored four of the Pirates seven runs. Gerrit Cole earned his ninth win of the season. He allowed one run on five hits over seven innings. Cole walked two and struck out eight.
The win kept the Padres from sweeping the series. The Pirates were 3-6 on the road trip.
The Bucs are 51-54 overall and 5-1/2 games behind the Chicago Cubs. They are off today and host Cincinnati Tuesday.
Texas Rangers third baseman Adrian Beltre became the 31st Major League Baseball player to reach 3,000 hits in a career. He is the first player from the Dominican Republic to do so.