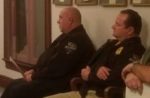 Lawsuits have been filed against the City of Butler by the former Butler City Police Chief and Deputy Police Chief demanding payment for lost compensation time, pensions and personal days.
Butler Attorney Al Lindsay made the filings Wednesday on behalf of Ron Brown and Dave Adam. The compensation requested by Brown is nearly $33,000 and the compensation requested by Adam is just over $29,000. Both men worked for the city for 28 years before retiring in 2018.
"The nature of the complaint is essentially a complaint requesting compensation they feel they were promised when they retired from the police force," Lindsay said Wednesday.
The suits contend the city miscalculated Brown and Adam's individual pensions and compensation for overtime, adding that they were both entitled to be paid for unused sick and vacation days.
Both allege there was also a violation of the Pennsylvania Wage Payment and Collection Law. Under that statute, if successful, the plaintiffs are entitled to attorney's fees.
As of late Wednesday afternoon, City Solicitor Tom Breth said the city had not yet received a copy of the complaints.
Last summer, Butler Mayor Ben Smith placed both Brown and Adam on administrative leave in response to a no-confidence vote taken by the city police union. Both men then subsequently retired.
Jury trials have been demanded in both lawsuits.
The post Retired Police Chiefs File Suits Against City appeared first on ButlerRadio.com – Butler, PA.