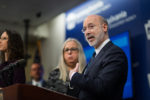 Governor Tom Wolf is asking state residents to increase their efforts to prevent the spread of COVID-19 as the number of cases increase across Pennsylvania.
"The fall resurgence is here, and while we always have to take this deadly virus seriously, now is really the time to double down on our efforts to keep our selves and others around us safe," Wolf said. "This is a plea to do just that; keep us safe."
State Secretary of Health Dr. Rachel Levine says in addition to seeing cases rise, hospitalizations are also on the rise. But currently they are not at the levels they were in the spring.
"These numbers are well below what we saw in the spring. At our peak, more than 3,000 people were hospitalized on one day for COVID-19," Levine said. "Our healthcare system is in a better place to address the virus than they were in the spring. But like the Governor discussed, we all have to do our part together."
Levine said as of Monday, there were 841 patients hospitalized for COVID-19—that's up for 422 a month ago.
The post Gov. Wolf: Time To Double Down On COVID Prevention Efforts appeared first on ButlerRadio.com – Butler, PA.