High School Sports Scores from Tuesday: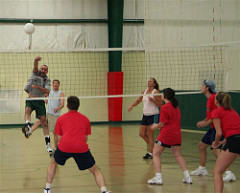 –AC Valley-3 Redbank Valley-0. Josie Terwilliger led the Falcons with 10-kills and 14-digs. AC Valley completed a perfect 11-0 regular season to win Keystone Shortway Athletic Conference.
–Seneca Valley-3 Butler-0. Both teams have qualified for the WPIAL playoffs. For Butler, it is the first time since 2008. The Golden Tornado will host Franklin Regional for Senior Night tomorrow night. Maria Lucas led Butler last night with seven kills, 15-digs and two aces.
–Pine-Richland-3 Shaler-0.
–North Allegheny-3 North Hills-0.
–Cardinal Wuerl North Catholic-7 Riverview-1. Joe Kearney had a hat trick for the Trojans.
–Seneca Valley-2 Central Catholic-0.
Girls Soccer:
–Freeport-8 Derry-0. Hannah Stokes scored twice for the Yellow Jackets, who completed their regulars eason 15-2-1.
–Karns City-13 Punxsutawney-1. Haley Scherer had five goals for the Gremlins. Chelsey Dodd added two.
Pine-Richland's Melissa Vizcardo and Alyssa Sarver defeated Butler's Teddi Isherwood and Reagan Sommariva 6-0, 6-0 in the Section-2 Doubles Championship Tuesday. Both teams will move on to the WPIAL championship tournament that begins tomorrow.
Butler Youth Lacrosse will have an information day this Saturday at Dick's Sporting Goods in Butler Township. The event will run from 10am to 6pm. Early registration also begins that day. For more information, visit their website at butleryouthlacrosse.com