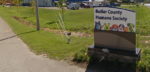 The Butler County Humane Society has decided to close for over a week in order to quarantine and disinfect after exposure to a potentially dangerous virus.
Executive Director Jennifer DiCuccio said a dog at the facility has a confirmed case of the canine Parvo virus.
The entire facility will be deep cleaned and all property sprayed with a solution called Rescue in order to eliminate the Parvo virus, which is contagious to animals, especially puppies. Dog Charlie showed symptoms Wednesday morning and was removed from the population but this virus has an incubation period of 5 to 10 days.
According to DiCuccio, it has been many years since the Butler County Humane Society has had an outbreak of Parvo but it is always possible since the shelter takes in strays and other pets who may not have been vaccinated. Charlie was taken from a trailer by the Pennsylvania State Police, according to DiCuccio.
"I can't talk very specifically about Charlie's case just because of an active investigation," she said.
People interested in assisting the Humane Society are asked to donate to the emergency medical fund for Charlie's expensive treatment, or purchase and donate more Rescue solution.
The Connoquenessing shelter closed Wednesday and will remain closed until April 5. The humane society takes in abandoned and mistreated animals. As of Thursday, none of the other animals in the shelter were experiencing symptoms of Parvo.
The post Butler Co. Humane Society Closed Due To Virus appeared first on ButlerRadio.com – Butler, PA.