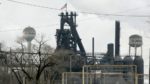 A large piece of local industrial property will soon receive new life as a result of a recent transaction.
Cleveland Cliffs, owners of AK Steel, will sell a 30 acre Plant 2 property along Bantam Avenue to CERTA Management for about $2.6 million.
Community Development Corporation of Butler County Executive Director Joe Saeler explains:
"We've been working with them for probably a little over a year or two years putting a project together. We're looking at some renovations to the existing buildings but there will also be some demolition to the buildings. We're working together now to figure out a restructuring plan for the area."
According to Saeler, multiple companies are already interested in going into some the buildings. Within the next six to nine months, the buildings are expected to be cleaned out followed by a cleaning of the property if that is determined to be necessary.
Saeler says that CERTA is a company with experience in this area.
"CERTA has always worked with AK Steel with the sites that AK no longer needs for operation. I know they've done a few in Ohio, I believe one in Kentucky, they also refurbish plants for GM."
County Commissioners and other local officials have met with CERTA and are looking forward to getting the buildings back in use and creating jobs.
The post Local Sale Of Industrial Property Could Lead To New Jobs appeared first on ButlerRadio.com – Butler, PA.