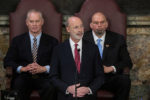 Governor Tom Wolf is proposing investment in workforce, schools, and communities with no new taxes as part of his annual budget address.
Wolf introduced his $36 billion spending proposal during a joint session of both the state house and the senate Tuesday morning in Harrisburg.
"Today I present a budget that reflects a renewed sense of confidence in Pennsylvania's future," Wolf said. "This budget merely asks what this Commonwealth can offer to each of its people."
He specifically highlighted an increase in the minimum wage to $15 per hour, investments in public education, and also ending gun violence.
There were only slight increases in his budget proposal this year, compared to last. Appropriations Committee hearings on the governor's budget proposal will begin February 18th.
The post No New Taxes In Governor's Budget appeared first on ButlerRadio.com – Butler, PA.