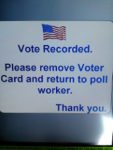 The state agency which oversees elections in Pennsylvania is working with counties to replace voting machines in time of the 2020 primary election.
Acting Pennsylvania secretary of state Robert Torres knows this will be an expensive venture:
"I've gone on the record with an estimate of between $95-153 million," Torres said. "A lot will depend on whether counties will partner and combine to leverage their buying power."
Torres says security is top of mind with these new machines, and each one will be required to include a paper ballot to verify the correct vote was cast.
In Butler County, it could cost $6 million to replace our voting machines, but there are several factors that could make that number go up or down. County Elections Director Shari Brewer has said she believes the entire elections system in the state needs reformed, possibly by consolidating voting precincts into "voting centers" or doing "vote by mail," which would mean less voting machines needed and fewer volunteers, and money saved.
"If the state lawmakers would have implemented election reform and changed the way that counties administrate elections, the cost for taxpayers to purchase a new voting system could have been significantly decreased," Brewer said Tuesday.
Photo by bkusler
The post State Continuing To Mandate Replacement Of Voting Machines By 2020 Primary appeared first on ButlerRadio.com – Butler, PA.