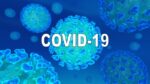 Five new COVID-19 cases were reported today for Butler County.
According to the state Department of Health, the county has collectively seen 34 new cases since last Tuesday.
As of Monday afternoon, Butler Memorial Hospital is treating six patients for the coronavirus, with one in the ICU.
Neighboring Allegheny County is reporting their highest number of cases since the beginning of the pandemic, with 109 new cases. Health officials also say that there hasn't been any new deaths for several days in Allegheny County.
The state overall reported just over 600 new cases, 35 new deaths, and nearly 11,000 new negative tests.
The post Tuesday Update: Five New COVID-19 Cases appeared first on ButlerRadio.com – Butler, PA.