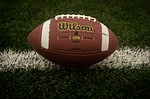 NFL Thursday Night Football:
–Philadelphia defeated Carolina 28-23. Eagles quarterback Carson Wentz threw three touchdowns. Philadelphia improved to an NFC-best 5-1.
The Pittsburgh Steelers visit the Kansas City Chiefs Sunday. Kick-off is 4:25pm. Pre-game on WISR 680am will be 2:25pm. The Steelers enter the game 3-2. The Chiefs are the only undefeated team in the NFL at 5-0.
The Steelers next opponent, the Cincinnati Bengals, have learned tight end Tyler Eifert is done for the season with a back injury. The Bengals have their "bye" week this week – before visiting Pittsburgh October 22nd. That game has had its start time changed from 1pm to 4:25pm at Heinz Field.
Although Dallas is on a "bye" week, it would appear the six-game suspension for Cowboys running back Ezekiel Elliott is back on. A federal appeals court has granted the NFL's emergency request to set aside an injunction by requested by players union attorney's on behalf of Elliott. The battle between the league and the players union is over the NFL's right to punish players for off-field behavior.
High School Football:
Butler will host Norwin tonight at 7:30pm. The game can be heard on WBUT 1050am and at wbut.com with Ron Willison and Craig Lucas beginning at 7:15pm.
Knoch will visit New Castle tonight at 7pm. Scott Briggs and Dave Bacon present the game on WISR 680am and at wisr680.com beginning at 6:30pm.
One other 7:30pm game: Seneca Valley is home to North Allegheny
7pm Kick-offs:
Mars is home to Ambridge
Karns City will visit Clarion
Moniteau is hosting Clarion-Limestone
Freeport is visiting Seton-LaSalle
North Catholic is home to Riverside
AC Valley/Union will host Brookville
Slippery Rock is on the road to Sharpsville
Grove City will host Fairview.
College Football Saturday:
Slippery Rock will host IUP in a Homecoming game at Mihalik-Thompson Stadium beginning at 2:05pm. The Rock is 6-0 to start a season for the first time since 1962 and are ranked #9 in the country. IUP is #3. Hear the game on The Rock Station 97.7fm and at 977rocks.com beginning at 1:30pm.
Pitt is hosting North Carolina State at noon. Pitt quarterback Max Browne, who transferred to the Panthers program in the offseason from Southern California, has had his season, and collegiate career, ended by a shoulder injury. Browne had surgery this week after sustaining the injury after being sacked during last week's game at Syracuse.
Geneva will go to Carnegie Mellon at 1pm.
Westminster will host Grove City at 1pm.
Clarion goes to Cal for a 3pm kick-off
Thiel is hosting Case Western Reserve at 3pm.
Penn State is idle this week.