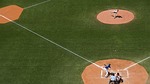 Major League Baseball Playoffs:
–The New York Yankees eliminated the Cleveland Indians with a 5-2 victory in Cleveland last night. The Yankees won the best-of-five American League Divisional Series 3-2. The Yankees travel to Houston to begin the American League Championship Series Friday.
–The Washington Nationals forced a Game Five tonight with the Chicago Cubs, thanks to a 5-0 victory at Wrigley Field Wednesday. Tonight's game will begin at 8:08pm in Washington. The winner moves on to Los Angeles this weekend for the National League Championship Series.
The Boston Red Sox have fired manager John Farrell after the Sox lost to the Houston Astros in their American League Divisional Series. It was the second year in a row that Boston was eliminated in a Divisional Series. The Red Sox had won the American League East crown for the second year in a row this season, for the first time in franchise history.