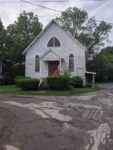 A local building with historical significance is scheduled to be demolished in three months unless a person or organization steps forward to save it.
During their meeting last night, Butler City Council acted in their capacity as the City's Board of Health to designate the Shiloh Baptist Church at 111 Hayes Avenue as a Public Nuisance Detrimental to Public Health. It had been condemned in December of last year.
Councilman Jeff Smith pointed out that this currently vacant structure was built in 1914 as possibly the first and one of the only all Black churches in the city of Butler. Smith also stated that the wife of an early pastor was a former slave was once owned by Dr. Samuel Mudd who treated John Wilkes Booth following his assassination of President Lincoln.
According to City Building Code Official John Evans, the last trustee of Shiloh Church passed away several months ago leaving the property without an official owner. Issues that need to be addressed include water damage in the basement from flooding, missing bathroom fixtures, structural cracks in the foundation, and no connection to the Butler Area Sewer Authority system.
The structure will not be demolished for at least 90 days in order to allow for anyone interested in saving and maintaining the structure to come forward with their plans for doing so.
The post City Church With Historical Significance To Be Torn Down appeared first on ButlerRadio.com – Butler, PA.