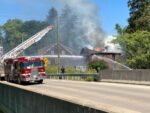 Fire officials are spreading the word about the lack of volunteers across the state.
It was a part of a state Senate committee hearing that took place yesterday. Greg Porter of the Etna Fire Company in Allegheny County says there has been a dramatic drop in firefighters over the last 40 years.
That's made responding to fires a growing problem.
"In my time in the fire service, I've watched the number of calls increase from my small fire department by over 800 percent. From 80 calls in 1997 to 800 calls in 2020," Porter said. "This is happening because many fire departments are struggling for members. We just call more departments hoping we get the response large enough to solve the problem we're faced with."
Officials believe there are around 38,000 firefighters in the state—down from nearly 300,000 in the 1970s.
The post Fire Officials Stress Impact Of Lack Of New Firefighters appeared first on ButlerRadio.com – Butler, PA.