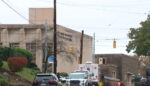 Today marks three years since the Tree of Life shooting at a synagogue in Pittsburgh.
11 Jewish worshippers died as a result of the shooting that happened around mid-morning at the Tree of Life synagogue in the Squirrel Hill neighborhood of Pittsburgh.
The case against Robert Bowers, the accused shooter, has dragged on over the last three years though. The federal government is seeking the death penalty, meanwhile Bowers attorneys are asking for a plea deal in order to spare his life.
Evidentiary hearings began earlier this month, as Bowers remains in the Butler County Prison.
The post Monday Marks Three Years Since Tree of Life Shooting appeared first on ButlerRadio.com – Butler, PA.