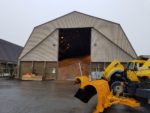 PennDOT says they're prepared for the wintry weather that's in store for this morning.
Crews say they spent the overnight pre-treating roads and keeping track of when the snow will fall.
The local PennDOT office brought in an assistant maintenance manager to help with operations through the morning drive.
While this isn't expected to be a significant snow event, the timing of it could cause major impacts to the morning commute.
The Pennsylvania Department of Transportation has implemented travel restrictions today for a number of highways in the area.
Beginning at 6 a.m. Interstate-79 from the Turnpike to I-80 will be under Tier 1 restriction. Also, restrictions are in place on PA Turnpike from New Stanton Exit 75 to Breezewood Exit 161.
Under Tier 1 restrictions, tractors without trailers, motorcycles, RVs, and commercial or school buses are not allowed on the highway.
PennDOT officials say motorists should avoid travel if possible and more restrictions could be added if the forecast changes. Updates will be made to the 511PA traveler information website and smartphone apps.
The post PennDOT Preparing For Wintry Weather; Restrictions In Place appeared first on ButlerRadio.com – Butler, PA.