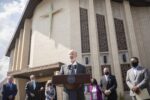 Governor Tom Wolf was near Pittsburgh yesterday providing the latest of the vaccine rollout.
Wolf said that the state Department of Health has been working on helping vulnerable populations get the vaccine.
"Among other efforts, we've worked with vaccine providers to make it easier for Pennsylvanians without internet access to make vaccine appointments by phone if they don't have access to the internet," Wolf said.
Locally, the Center for Community Resources is coordinating that service. Residents can call 888-550-SHOT (7468) if they don't have access to the internet.
Wolf also added that as the rollout continues, his administration is ready to tackle any problems that may pop up.
"As new populations become eligible to receive the vaccine, we know we're going to encounter other challenges, new challenges, and new barriers to vaccine access," Wolf said. "So we're going to keep working to find innovative and flexible approaches to continue to make sure that we have equity and a fully robust rollout."
Over 65,000 county residents have received at least one shot of the COVID-19 vaccine.
The post Wolf Updates Vaccine Rollout In Trip To Pittsburgh appeared first on ButlerRadio.com – Butler, PA.